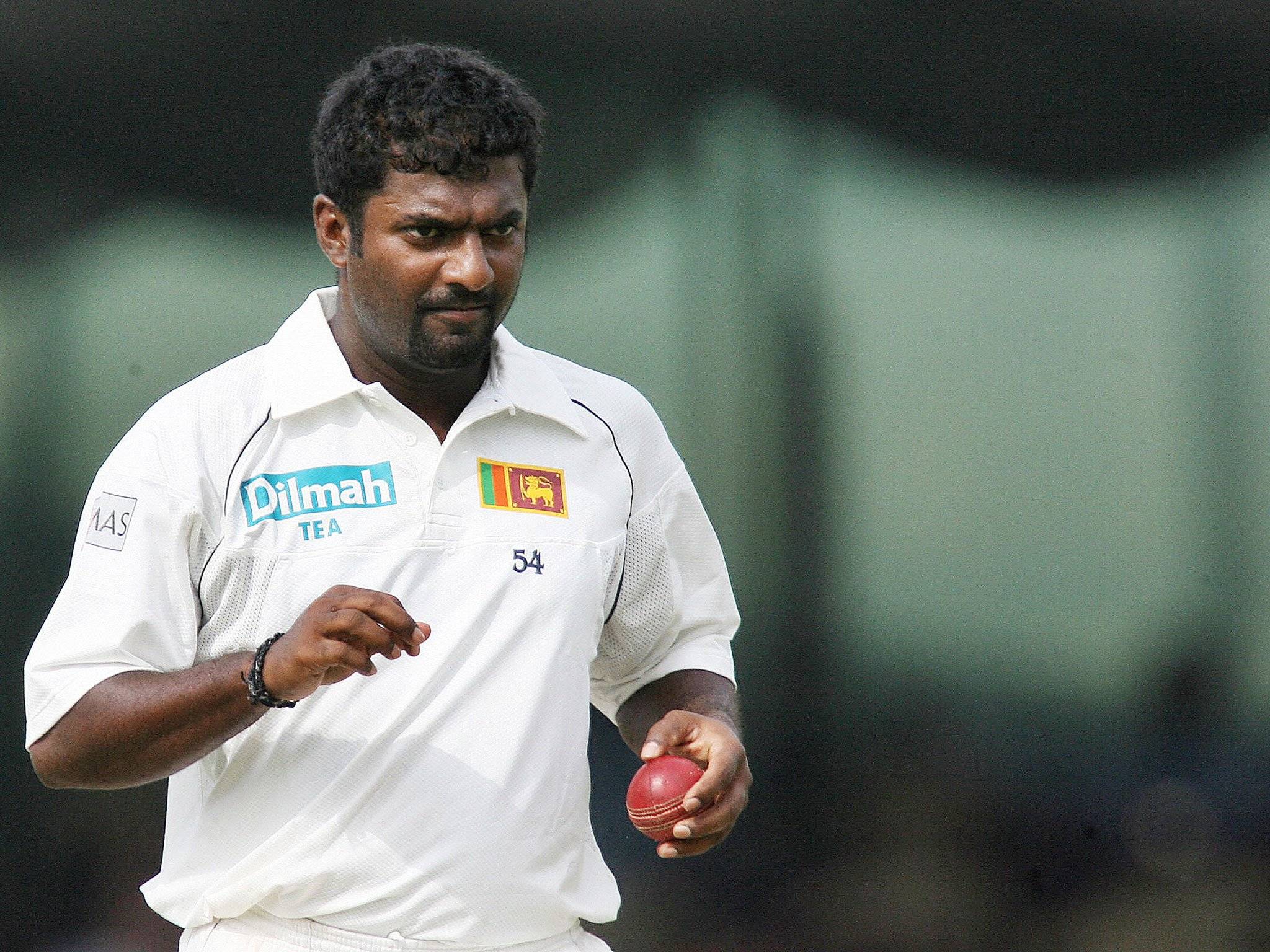 Muttiah Muralitharan born 17 April1972) is a former Sri Lankan cricketer who was rated the greatest Test match bowler ever by Wisden Cricketers' Almanack in 2002. He retired from Test cricket in 2010, registering his 800th and final wicket on 22 July 2010 from his final ball in his last Test match.Muralitharan holds the world record for the most wickets in both test and one-day cricket. In 2017, he became the only Sri Lankan to be inducted into the ICC Hall of Fame.He won the Ada Derana Sri Lankan of the Year in 2017.Murali became the highest wicket-taker in Test cricket when he overtook the previous record-holder Shane Warne on 3 December 2007.Muralitharan had previously held the record when he surpassed Courtney Walsh's 519 wickets in 2004, but he suffered a shoulder injury later that year and was overtaken by WarneAveraging over six wickets per Test, Muralitharan is one of the most successful bowlers in the game. Muralitharan held the number one spot in the International Cricket Council's player rankings for Test bowlers for a record period of 1,711 days spanning 214 Test matches.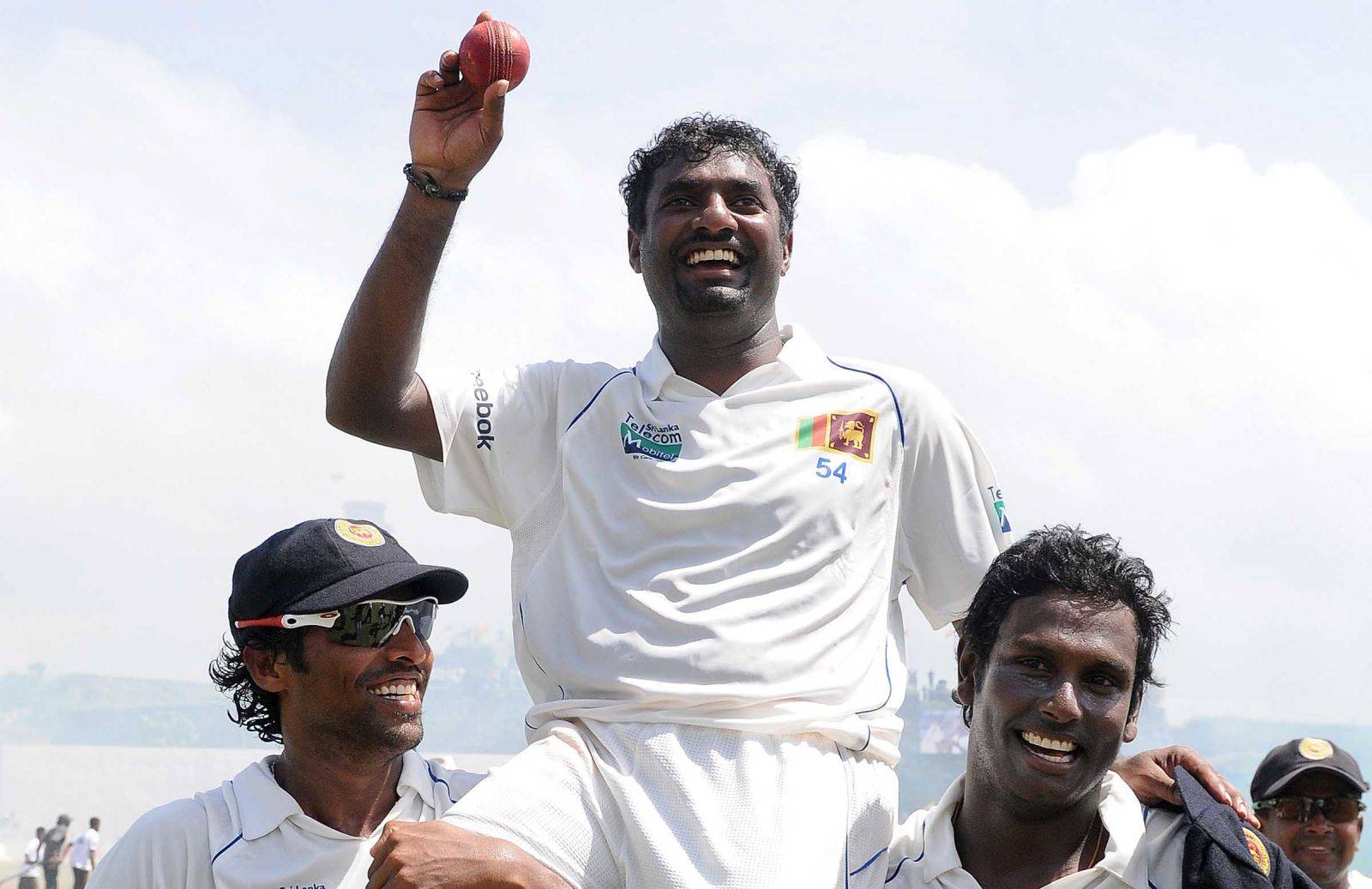 Muralitharan at the CEAT Cricket Ratings Awards in February 2013

Muralitharan was born 17 April 1972 to a Hill Country Tamil Hindu family in Kandy, Sri Lanka. The eldest of the four sons to Sinnasamy Muttiah and Lakshmi. Muralitharan's father Sinnasamy Muttiah, runs a successful biscuit-making business.Muralitharan's paternal grandfather Periyasamy Sinasamy came from South India to work in the tea plantations of central Sri Lanka in 1920.Sinasamy later returned to the country of his birth with his daughters and settled in Tiruchirapalli, Tamil Nadu, India. However, his sons, including Muralitharan's father Muttiah, remained in Sri Lanka.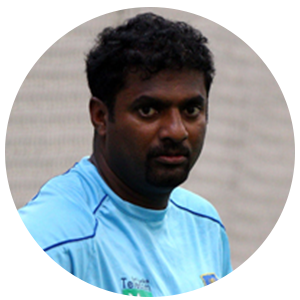 Full name - Muttiah Muralitharan

Born17 April 1972 (age 46),

Kandy

,

Dominion of Ceylon

NicknameMurali

Height5 ft 7 in (1.70 m)

BattingRight-handed
International information
National side

Sri Lanka

  - (1992–2011)

Last Test - 18 July 2010 v

India

Last ODI2 - April 2011 v

India

ODI shirt no - .08

T20I debut - (cap

13

)22 December 2006 v

New Zealand

Last - T20I31 October 2010 v

Australia
Muralitharan's career was beset by controversy over his bowling action for much of his international career. Due to an unusual hyperextension of his congenitally bent arm during delivery, his bowling action was called into question on a number of occasions by umpires and sections of the cricket community.After biomechanical analysis under simulated playing conditions, Muralitharan's action was cleared by the International Cricket Council, first in 1996 and again in 1999.Former Australian Test player Bruce Yardley, who himself was an off spinner in his day, was assigned with the task of ensuring Muralitharan bowled all his deliveries with the same vigour as he would do so in match conditions when tested in 2004.Muralitharan had not commenced bowling the doosra at this time. The legality of his doosra was first called into question in 2004. This delivery was found to exceed the ICC elbow extension limit by nine degrees, five degrees being the limit for spinners at that time.Based on official studies into bowling actions, which revealed that 99% of bowlers whose actions were examined exceeded the elbow flexion limits, ICC revised the limits applying to all bowlers in 2005. The new limit of 15-degrees, one degree greater than Muralitharan was bowling his doosra, allowed him to continue without being called for throwing from then on.
When he was nine years old, Muralitharan was sent to St. Anthony's College, Kandy, a private school run by Benedictine monks. He began his cricketing career as a medium pace bowler but on the advice of his school coach, Sunil Fernando, he took up off-spin when he was fourteen years old. He soon impressed and went on to play for four years in the school First XI. In those days he played as an all-rounder and batted in the middle order. In his final two seasons at St Anthony's College he took over one hundred wickets and in 1990/1 was named as the 'Bata Schoolboy Cricketer of the Year.
When his grandfather died at the age of 104 in July 2004, Muralitharan returned home from a tour of India to attend his funeral.
Periyasamy Sinasamy's first wish to see Muralitharan claiming the world record for the most Test wickets was realised (passing the record set by Courtney Walsh), but not his desire to live to see his grandson married. Muralitharan's grandmother had died one month earlier at the age of 97. Muralitharan's manager, Kushil Gunasekera stated that "Murali's family is closely knit and united. They respect traditional values. The late grandfather enjoyed a great relationship with Murali.
Muralitharan married Madhimalar Ramamurthy,a Chennai native, on 21 March 2005.Madhimalar is the daughter of late Dr S. Ramamurthy of Malar Hospitals, and his wife Dr Nithya Ramamurthy.[34] Their first child, Naren, was born in January 2006.
In domestic cricket, Muralitharan played for two first-class Sri Lankan sides, Tamil Union Cricket and Athletic Club in the Premier Trophy and Central Province in the Provincial Championship. His record is exceptional – 234 wickets at 14.51 runs in 46 matches.
In February 2008, Muralitharan was slated to play Twenty20 cricket for the Chennai Super Kings in the Indian Premier League (IPL). He was bought for $600,000 by India Cements, the Chennai franchisee of the IPL, through a bidding process. The Chennai Super Kings were the runners up in the inaugural edition of the IPL, losing to the Rajasthan Royals in the final.
He also played county cricket in England, mainly for Lancashire (1999, 2001, 2005 and 2007) where he appeared in twenty-eight first-class games for the club. He played five first class games for Kent during the 2003 season. His bowling record in English domestic cricket is also exceptional – 236 wickets at 15.62 runs in 33 matches.
Muttiah Muralitharan signed for the Melbourne Renegades to play Twenty20 cricket in the Big Bash League, in 2012. He stated, "I wanted to play one season in Australia and the opportunity from the Melbourne Renegades was there so I took it with both hands.
 July 2008, Muralitharan and Ajantha Mendis stopped India's strong batting as Sri Lanka won the first Test by a record innings and 239 runs in Colombo. Muralitharan finished the match with 11 wickets for 110, as India were shot out for 138 in their second innings after conceding a lead of 377 on the fourth day. He was well supported by debutant Ajantha Mendis, an unorthodox spinner with plenty of variation, who took eight wickets in his debut match.
Muralitharan believed the emergence of Mendis would help prolong his own career. Muralitharan, 36, and 23-year-old Mendis formed a formidable partnership in the first Test thrashing of India, taking 19 of the 20 wickets between them. "If he keeps performing this way, he will definitely take a lot of wickets in international cricket. Now that he has come, I think I can play Test cricket a few more years. Bowling 50 overs in a Test innings is very hard. Now if I bowl only 30–35 and he bowls more than me, the job will get easier for me
n July 2007, Muralitharan achieved a career peak Test Bowling Rating of 920, based on the LG ICC Player Rankings. This is the highest ever rating achieved by a spin bowler in Test cricket. This also puts him in fourth place in the LG ICC Best-Ever Test bowling raDuring Muralitharan's playing days, the ICC Future Tours Programme denied Sri Lanka and several other teams a level playing field. As a consequence Muralitharan never toured South Africa after December 2002 and never playing a Test at the spin-friendly Sydney CricketGroundtings.uralitharan has the unique distinction of getting 10 or more wickets in a match against all other nine Test playing nations as well as capturing over 50 wickets against each of them. He also obtained 7 or more wickets in an innings against five nations, namely England, India, South Africa, West Indies and Zimbabwe (refer to table above). Muttiah Muralitharan also took at least five five-fors against all the other nine Test sides.He currently holds the highest wickets/match ratio (6.1) for any bowler with over 200 Testwickets and also represented Sri Lanka in 118 Tests of the 175 that they have played.
World records and achievements
The most Test wickets (800 wickets)

The most One-Day International wickets (534 wickets)

The highest number of international wickets in Tests, ODIs and T20s combined (1347 wickets)

The most 5-wicket hauls in an innings at Test level .

The most 10-wicket hauls in a match at Test level . He is the only player to take 10 wickets/match against every Test playing nation.

Fastest to and 800 Test wickets, in terms of matches played (indeed the only bowler to exceed 708 wickets).

Only player to take 10 wickets in a Test in four consecutive matches. He achieved this feat twice.

Only player to take 50 or more wickets against every Test playing nation.

Muralitharan and Jim Laker (England), are the only bowlers to have taken 9 wickets in a Test innings twice.

7 wickets in an innings against the most countries (5).

Most Test wickets taken bowled stumped and caught & bowled jointly with Anil Kumble. Bowled by Muralitharan (b Muralitharan) is the most common dismissa

l in Test cricket

.