The Novel Green Concept Country Homes
Kananke Hill is a country home housing project naturally landscape and surrounded by a chain of small Hills. This tiny Hill land is situated at the middle of the chain of uplands. Kananke is a traditional village located down on the Galle, Deniyaya main road, which is just 5 Km away from Imaduwa and Kokmaduwa highway Inter changes. Kananke Hills Covered by Greenish nature from , Tea, Rubber, Cinnamon, Paddy Fields, and pine wood Forests at the back of the land.
Probably your favourite Nature Holiday Home, Who loves to experience the rustic Village (Life) concept in life. The entire land is divided for 4 Clusters; Kingston Terrace, Green Field Avenue, Pinewood Valley and Cinnamon Garden. There are 72 blocks in the area and available for as salable land Plots or country houses.
In order to fulfill with the country home concept we have blended a greater extent of natural life for this valuable project. The most attractive and the eye-appealing spot on this beautiful hill is the "Nature Park" which is boarding the pinewood forest. This park has its unique features than an ordinary one, as it surrounds with a range of vegetables, Fruits, and flower beds, Spice & Herbal garden.
The Novel Green Concept Country Home
When you are weary of the hustle and bustle of the urban life, all you need is the freedom and tranquility of nature, and this is the novel green consept country home project in Sri Lanka which created to let you enjoy the amazement, freedom and the serenity of nature,with
Outdoor space for fitness activies

Private and secure walking paths expanding through cinnamon and tea bushes

A traditional community farm garden to give you the pleasure of farming

Outdoor children park and Badminton court

Infinity pool stretching towards an amazing view

Common clubhouse for your social gathering with friendsText

away from the city life. Love come to Kananke Hills Country Home...............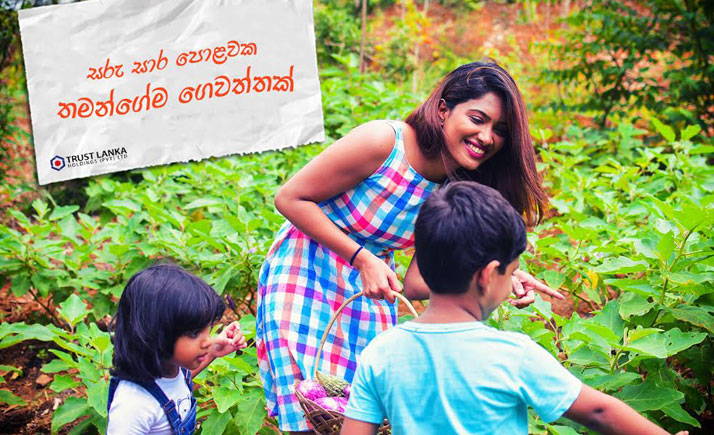 WE HAVE COME UP WITH FOUR (04) DESIGNS OF COUNTRY VILLAS FOR YOUR DESIRES AT KANANKE.

ANY CUSTOM DESIGN CAN BE BUILD ???

YES WE CAN !!!!!

For above houses inner arrangements can be change as per the customer requirement. Customer have a choice to go with a custom design according to his/her requirement and but which design is to suit with our housing project concept.
And also the design should develop with our housing department including construction process. Addition to the construction cost 3% of Architect fee will be collected from the customer.

Trust Lanka Holdings (Pvt) Ltd.

416/4/C3,
Highlevel Road, Makumbura, Pannipitiya, Sri Lanka.

+94 11 2 780 606
+94 11 2 780 606

info@trustlankaholdings.com
We have solutions for your problems, just leave a message.
Thanks!
This field is required
This field is required
This field is required
Niwaasa Niwasa Gewal Nivasa Nivaasa Kananke