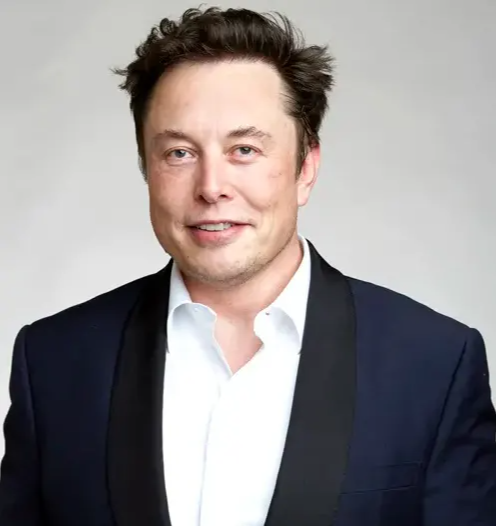 Elon Musk FRS (born June 28, 1971) is a business magnate, industrial designer, and engineer. He is the founder, CEO, CTO, and chief designer of SpaceX; early investor, CEO, and product architect of Tesla, Inc.; founder of The Boring Company; co-founder of Neuralink; and co-founder and initial co-chairman of Open AI. He was elected a Fellow of the Royal Society (FRS) in 2018. Also that year, he was ranked 25th on the Forbes list of The World's Most Powerful People and was ranked joint-first on the Forbes list of the Most Innovative Leaders of 2019. A centi-billionaire, Elon Musk became the richest person in the world, for a week, in Jan 2021.
Born                    :           Elon Reeve Musk June 28, 1971 (age 49) Pretoria, South Africa
Citizenship         :           South Africa (1971–present) Canada (1971–present) United States (2002–present)
Education            :         Queen's University (no degree) University of Pennsylvania (BS and BA, 1997)
Occupation         :           Entrepreneur Industrial designer Engineer
Years active        :         1995–present
Net worth            :         US$ 197 billion (January 2021)
Title                    :         Founder, CEO, lead designer of SpaceX CEO, product architect of Tesla, Inc. Founder of The Boring Company and X.com (now PayPal) Co- founder of Neuralink, OpenAI, and Zip2 Chairman of SolarCity
Spouse(s)          :             Justine Wilson ​(m. 2000; div. 2008)​ Talulah Riley (m. 2010; div. 2012)​ (m. 2013; div. 2016)​
Partner(s)          :             Grimes (2018–present)
Children              :             7
Parents               :             Errol Musk (father), Maye Musk (mother)
Relatives            :             Kimbal Musk (brother), Tosca Musk (sister), Lyndon Rive (cousin)

Elon Reeve Musk was born on June 28, 1971, in Pretoria, Transvaal, South Africa. His mother is Maye Musk (née Haldeman), a model and dietitian born in Saskatchewan, Canada, but raised in South Africa. His father is Errol Musk, a South African electromechanical engineer, pilot, sailor, consultant, and property developer. He has a younger brother who was an early business partner, Kimbal (born 1972), and a younger sister, Tosca (born 1974), the CEO of the video streaming site Passionflix. His maternal grandfather, Joshua Haldeman, was an American-born Canadian. His paternal grandmother had both British and Pennsylvania Dutch ancestry.
After his parents divorced in 1980, Musk lived mostly with his father in the suburbs of Pretoria, a choice he made two years after the divorce and subsequently regretted. Musk has become estranged from his father, whom he has described as "a terrible human being... Almost every evil thing you could possibly think of, he has done. He also has a half-sister and a half-brother on his father's side.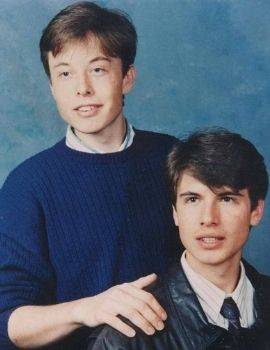 While awaiting Canadian documentation, Musk attended the University of Pretoria for five months. This allowed Musk to avoid mandatory service in the South African military. Arriving in Canada in June 1989, Musk failed to locate his great-uncle in Montreal and instead stayed at a youth hostel. He then traveled west to live with a second-cousin in Saskatchewan. He stayed there for a year, working odd jobs at a farm and lumber-mill. In 1990, Musk entered Queen's University in Kingston, Ontario. Two years later, he transferred to the University of Pennsylvania; he graduated in 1997 with a Bachelor of Science (BS) degree in economics from the Wharton School and a Bachelor of Arts (BA) degree in physics.
In 1994, Musk held two internships in Silicon Valley during the summer: at an energy storage start-up called Pinnacle Research Institute, which researched electrolytic ultracapacitors for energy storage, and at the Palo Alto-based start-up Rocket Science Games.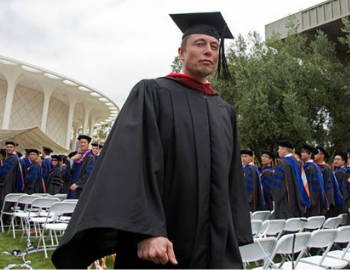 On August 12, 2013, Musk unveiled a concept for a high-speed transportation system incorporating reduced-pressure tubes in which pressurized capsules ride on an air cushion driven by linear induction motors and air compressors. The alpha design for the system was published in a whitepaper posted to the Tesla and SpaceX blogs. The document scoped out the technology and outlined a notional route where such a transport system might be built: between the Greater Los Angeles Area and the San Francisco Bay Area, at an estimated total cost of $6 billion.
In July 2018, Musk arranged for employees of his to build a small rescue pod to assist rescuers during the Tham Luang cave rescue. Musk, responding to requests for help from Twitter users, offered help and his The Boring Company contacted the Thai government.Named "Wild Boar" after the children's soccer team, its design, based on dive team feedback, was a five-foot (1.5 m)-long, twelve-inch (300 mm)-inch wide sealed tube weighing about 90 pounds (41 kg) propelled manually by divers in the front and back with segmented compartments to place diver weights to adjust buoyancy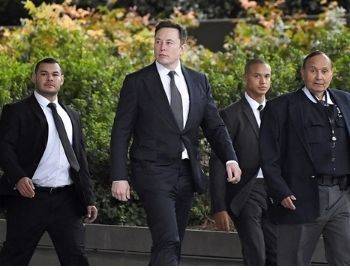 Politically, Musk has described himself as "half Democrat, half Republican" and "I'm somewhere in the middle, socially liberal and fiscally conservative." In 2018, he stated that he was "not a conservative. I'm registered independent [and] politically moderate." Prompted by the emergence of artificial intelligence, Musk has voiced support for a universal basic income; he additionally backs direct democracy and has stated he thinks the government on Mars will be a direct democracy. He has described himself as a "socialist", but "not the kind that shifts resources from most productive to least productive, pretending to do good, while actually causing harm"—arguing instead, "true socialism seeks greatest good for all." He supports targeting an inclusive tax rate of 40%, prefers consumption taxes to income taxes, and supports the estate tax, as the "probability of progeny being equally excellent at capital allocation is not high."
In an interview with The Washington Post, Musk stated he was a "significant (though not top-tier) donor to Democrats," but that he also gives heavily to Republicans. Musk further stated that political contributions are a requirement in order to have a voice in the United States government. A 2012 report from the Sunlight Foundation, a nonpartisan group that tracks government spending, found that since 2002, SpaceX had spent more than $4 million on lobbying the United States Congress and more than $800,000 in political contributions to Democrats and Republicans.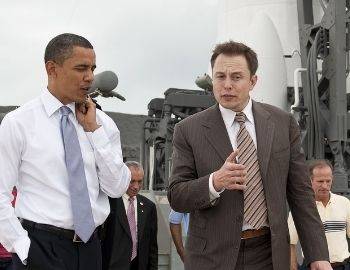 Musk met his first wife, Canadian author Justine Wilson, while both were students at Ontario's Queen's University. They married in 2000 and separated in 2008. Their first son died of sudden infant death syndrome (SIDS) at the age of 10 weeks. They later had five sons through in vitro fertilization—twins in 2004, followed by triplets in 2006. They share custody of all five sons.
In 2008, Musk began dating English actress Talulah Riley, and in 2010, the couple married. In January 2012, Musk announced that he had ended his four-year relationship with Riley, tweeting to Riley, "It was an amazing four years. I will love you forever. You will make someone very happy one day. "In July 2013, Musk and Riley remarried. In December 2014, Musk filed for a second divorce from Riley; however, the action was withdrawn. The media announced in March 2016 that divorce proceedings were again underway, this time with Riley filing for divorce from Musk. The divorce was finalized in late 2016.On May 7, 2018, Musk and Canadian musician Grimes revealed that they were dating. On January 8, 2020, Grimes announced that she was pregnant with their first child.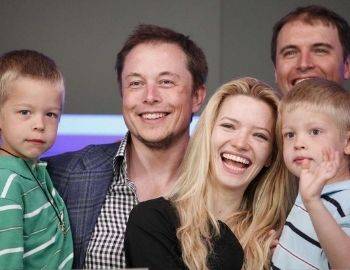 Musk has frequently spoken about the potential dangers of artificial intelligence, calling it "the most serious threat to the survival of the human race". During a 2014 interview at the MIT AeroAstro Centennial Symposium, Musk described AI as humanity's largest existential threat, further stating, "I'm increasingly inclined to think that there should be some regulatory oversight, maybe at the national and international level, just to make sure that we don't do something very foolish." Musk described the creation of artificial intelligence as "summoning the demon".
Despite this, Musk invested in DeepMind, an AI firm, and Vicarious, a company working to improve machine intelligence. In January 2015, he donated $10 million to the nonprofit Future of Life Institute, an organization focused on challenges posed by advanced technologies. He was previously the co-chairman of OpenAI, a nonprofit artificial intelligence research company.Musk has said that his investments are "not from the standpoint of actually trying to make any investment return... I like to just keep an eye on what's going on with artificial intelligence. I think there is potentially a dangerous outcome there. There have been movies about this, you know, like Terminator.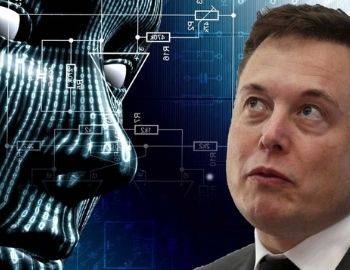 In 2001, Musk conceived Mars Oasis, in which a miniature greenhouse on Mars would grow food crops and reawaken public interest in space exploration. In October 2001, Musk traveled with a group to Moscow to buy refurbished Dnepr Intercontinental ballistic missiles (ICBMs) that could send the greenhouse payloads into space. He met with companies such as NPO Lavochkin and Kosmotras; however, Musk was seen as a novice and was even spat on by one of the Russian chief designers. The group returned to the United States empty-handed. In February 2002, the group returned to Russia to look for three ICBMs. They had another meeting with Kosmotras and were offered one rocket for $8 million, which Musk rejected. Musk instead decided to start a company that could build affordable rockets.
With $100 million of his early fortune, Musk founded Space Exploration Technologies Corp., traded as SpaceX, in May 2002. SpaceX began development of the Starlink constellation of low Earth orbit satellites in 2015
Tesla, Inc. (originally Tesla Motors) was incorporated in July 2003 by Martin Eberhard and Marc Tarpenning, who financed the company until the Series A round of funding. Both men played active roles in the company's early development prior to Musk's involvement. Musk led the Series A round of investment in February 2004, joining Tesla's board of directors as its chairman. According to Musk, all three, along with J. B. Straubel, were inspired by the earlier AC Propulsion tzero electric roadster prototype. Musk took an active role within the company and oversaw Roadster product design at a detailed level, but was not deeply involved in day-to-day business operations. Following the financial crisis in 2008 and after a series of escalating conflicts in 2007, Eberhard was ousted from the firm. Musk assumed leadership of the company as CEO and product architect in 2008, positions he still holds today. As of 2019, Elon Musk is the longest tenured CEO of any automotive manufacturer globally. In 2014, Musk announced that Tesla would allow its technology patents to be used by anyone in good.
Musk provided the initial concept and financial capital for SolarCity, which his cousins Lyndon and Peter Rive co-founded in 2006. By 2013, SolarCity was the second largest provider of solar power systems in the United States. In 2012, Musk announced that SolarCity and Tesla would collaborate to use electric vehicle batteries to smooth the impact of rooftop solar on the power grid, with the program going live in 2013. In June 2014, Musk committed to building a SolarCity advanced production facility in Buffalo, New York, that would triple the size of the largest solar plant in the United States. Musk stated the plant will be "one of the single largest solar panel production plants in the world," and it will be followed by one or more even bigger facilities in subsequent years. The Tesla Gigafactory 2 is a photovoltaic (PV) cell factory, leased by Tesla subsidiary SolarCity in Buffalo, New York. Construction on the factory started in 2014 and was completed in 2017. Tesla accepted $750 million in public funds from New York Governor Andrew Cuomo as part of the Buffalo Billion project—a plan to invest money to help the economy of the Buffalo,
---