Sir Don Baron Jayatilaka (13 February 1868 – 29 May 1944) known as D.B. Jayatilaka was a Sri Lankan educationalist, statesmen and diplomat. He was Vice-President of the Legislative Council of Ceylon; the Minister for Home Affairs and Leader of the House of the State Council of Ceylon; and Representative of Government of Ceylon in New Delhi. Sir D. B. Jayatilaka is also considered as a flag bearer of Buddhist education in Sri Lanka.
Srimath Don Baron Jayatilaka
Born             : 13 February 1868, Waragoda, Kelaniya, Sri Lanka
Died             : 29 May 1944 (aged 76), Bangalore, India
Nationality   : Ceylonese
Spouse(s)   : Mallika Batuwantudawe
Children       : Three daughters and Two sons
Occupation : Barrister, politician, Diplomat, Educationalist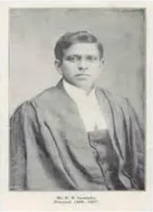 ---
Born at Waragoda, Kelaniya, he was the eldest male child of Don Daniel Jayatilaka, a government servant, and his wife Liyanage Dona Elisiyana Perera Weerasinha, daughter of oriental scholar, Don Andiris de Silva Batuwantudawe of Werahena. He had two brothers, and two sisters, both of whom died young.
---
When he was seven years Jayatilaka was sent to the Vidyalankara Pirivena, where he learned Sinhala, Pali and Sanskrit by Ratmalane Sri Dharmaloka Thera. To study English and other subjects in the English medium, he was sent to the local Baptist school from where he was sent to Wesley College in 1881, there he passed the junior and senior Cambridge examinations, travelling daily by cart from Kelaniya to the Pettah.
Jayatilaka graduated from the University of Calcutta with a BA in 1896 and went on to gain a BA in jurisprudence from Jesus College, Oxford in 1913 which was later upgraded to a MA some years later. He was called to the bar as a Barrister from the Lincoln's Inn and became an Advocate of the Supreme Court of Ceylon.
---
He first met Colonel Henry Steel Olcott in 1890 and joined his campaign to establish English medium Buddhist schools in the country. In 1898 he was appointed as the Principal of the Buddhist High School in Kandy (now Dharmaraja College), thereafter he became the vice principal of the English Buddhist School in Colombo (now Ananda College) under principal C. W. Leadbeater. Several years later he succeed Leadbeater as principal. He was instrumental in the establishment of the Young Men's Buddhist Association (YMBA) at Borella becoming its president in 1898 and holding the post until his death.
He left for Europe in 1910, spending three years there. During which he attended the representative of Ceylon, at the Congress of Religions in Berlin; gained a BA from Oxford and became a Barrister.
---
In 1944, he fell ill and began his return to Ceylon. He died on 29 May 1944 due to a heart attack in Bangalore. His body was returned to Ceylon in a special plane for the final rites. Sir Baron Jayatilaka was highly respected during his lifetime by both Ceylonese and British. Following his retirement from the State Council, he held the first diplomatic appointment of the Government of Ceylon. In 2018, a statue of Sir Baron Jayatilaka was erected at Thurburn House, Colombo.
---