A movie theater (American English),cinema (British English)or cinema hall (Indian English) is a building that contains an auditorium for viewing films (also called movies) for entertainment. Most, but not all, theaters are commercial operations catering to the general public, who attend by purchasing a ticket. Some movie theaters, however, are operated by non-profit organizations or societies which charge members a membership fee to view films.The film is projected with a movie projector onto a large projection screen at the front of the auditorium while the dialogue, sounds and music are played through a number of wall-mounted speakers. Since the 1970s, subwoofers have been used for low-pitched sounds. In the 2010s, most movie theaters are equipped for digital cinema projection, removing the need to create and transport a physical film print on a heavy reel.



A great variety of films are shown at cinemas, ranging from animated films to blockbusters to documentaries. The smallest movie theaters have a single viewing room with a single screen. In the 2010s, most movie theaters have multiple screens. The largest theater complexes, which are called multiplexes—a design developed in the US in the 1960s—have up to thirty screens. The audience members often sit on padded seats, which in most theaters are set on a sloped floor, with the highest part at the rear of the theater. Movie theaters often sell soft drinks, popcorn, and candy, and some theaters sell hot fast food. In some jurisdictions, movie theaters are licensed to sell alcoholic drinks.


A movie theater may also be referred to as a movie theatre, movie house, film house, film theater or picture house. In the US, theater has long been the preferred spelling, while in the UK, Australia, Canada and elsewhere it is theatre.Colloquial expressions, mostly applied to motion pictures and motion picture theaters collectively, include the silver screen (formerly sometimes sheet) and the big screen (contrasted with the smaller screen of a television set). Specific to North American term is the movies, while specific terms in the UK are the pictures, the flicks and for the facility itself the flea pit (or fleapit). A screening room is a small theater, often a private one, such as for the use of those involved in the production of motion pictures or in a large private residence.

The earliest precursors to movies were magic lantern shows. Magic lanterns used a glass lens, a shutter and a powerful lamp to project images from glass slides onto a white wall or screen. These slides were originally hand-painted. The invention of the Argand lamp in the 1790s, limelight in the 1820s and the intensely bright electric arc lamp in the 1860s increased the brightness of the images.The magic lantern could project rudimentary moving images, which was achieved by the use of various types of mechanical slides. Typically, two glass slides, one with the stationary part of the picture and the other with the part that was to move, would be placed one on top of the other and projected together, then the moving slide would be hand-operated, either directly or by means of a lever or other mechanism. Chromotrope slides, which produced eye-dazzling displays of continuously cycling abstract geometrical patterns and colors, were operated by means of a small crank and pulley wheel that rotated a glass disc. Still photographs were used later on after the widespread availability of photography technologies after the mid-19th century. Magic lantern shows were often given at fairs or as part of magic shows. A magic lantern show at the 1851 World's Fair caused a sensation among the audience.


Traditionally a movie theater, like a stage theater, consists of a single auditorium with rows of comfortable padded seats, as well as a foyer area containing a box office for buying tickets. Movie theaters also often have a concession stand for buying snacks and drinks within the theater's lobby. Other features included are film posters, arcade games and washrooms. Stage theaters are sometimes converted into movie theaters by placing a screen in front of the stage and adding a projector; this conversion may be permanent, or temporary for purposes such as showing arthouse fare to an audience accustomed to plays. The familiar characteristics of relatively low admission and open seating can be traced to Samuel Roxy Rothafel, an early movie theater impresario. Many of these early theaters contain a balcony, an elevated level across the auditorium above the theater's rearmost seats. The rearward main floor "loge" seats were sometimes larger, softer, and more widely spaced and sold for a higher price. In conventional low pitch viewing floors the preferred seating arrangement is to use staggered rows. While a less efficient use of floor space this allows a somewhat improved sight line between the patrons seated in the next row toward the screen, provided they do not lean toward one another.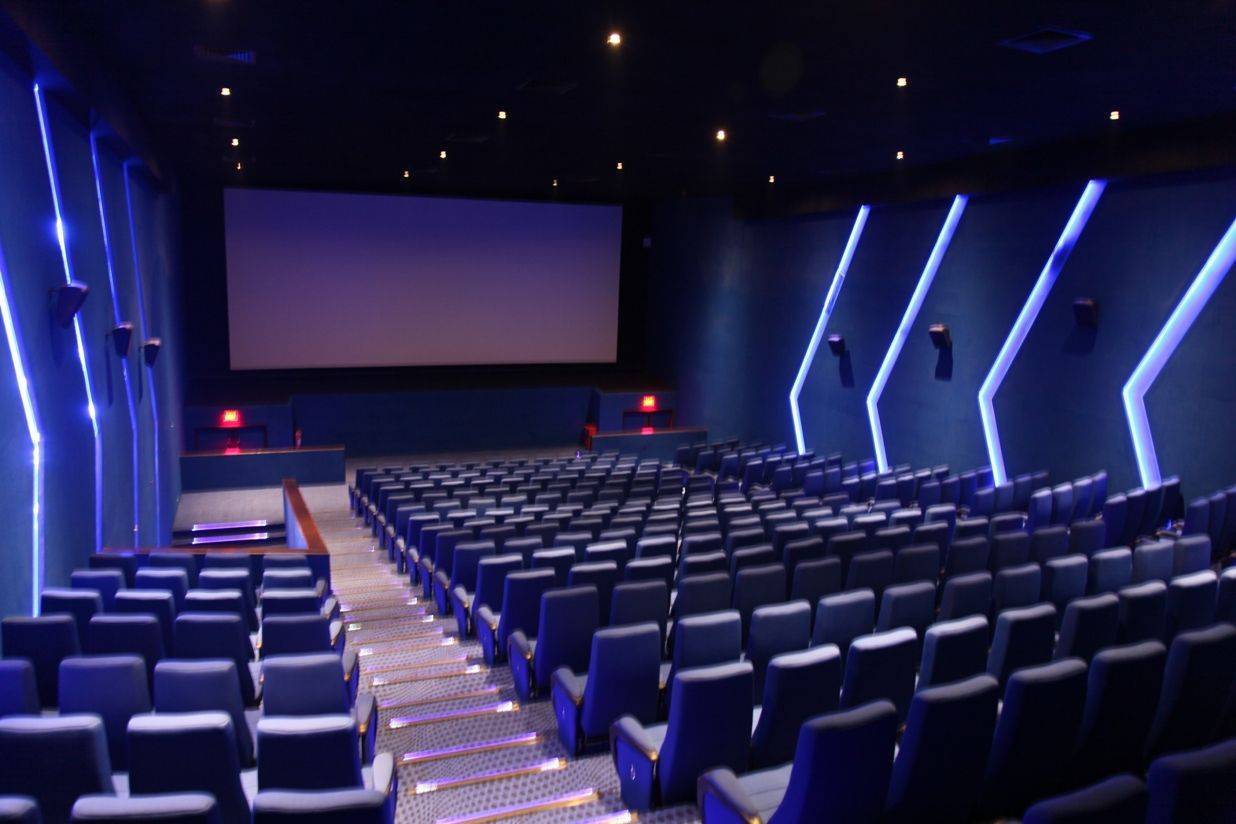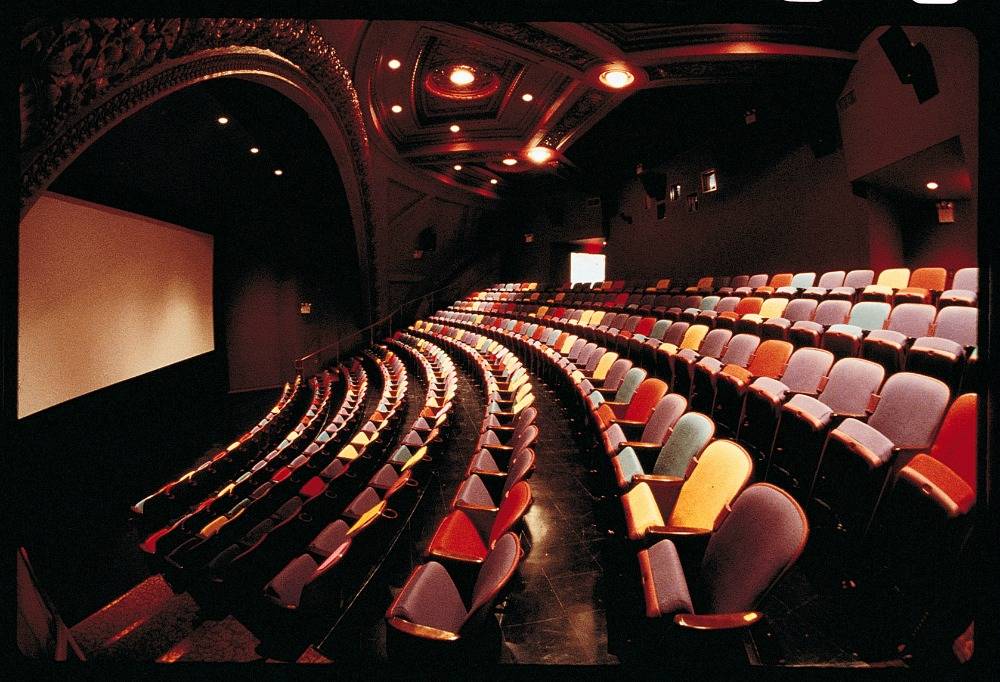 "Stadium seating", popular in modern multiplexes, actually dates back to the 1920s. The 1922 Princess Theatre in Honolulu, Hawaii featured "stadium seating," sharply raked rows of seats extending from in front of the screen back towards the ceiling. It gives patrons a clear sight line over the heads of those seated in front of them. Modern "stadium seating" was utilized in IMAX theaters, which have very tall screens, beginning in the early 1970s. Rows of seats are divided by one or more aisles so that there are seldom more than 20 seats in a row. This allows easier access to seating, as the space between rows is very narrow. Depending on the angle of rake of the seats, the aisles have steps. In older theaters, aisle lights were often built into the end seats of each row to help patrons find their way in the dark. Since the advent of stadium theaters with stepped aisles, each step in the aisles may be outlined with small lights to prevent patrons from tripping in the darkened theater. In movie theaters, the auditorium may also have lights that go to a low level, when the movie is going to begin. Theaters often have booster seats for children and other short people to put on the seat, to sit higher, for a better view. Many modern theaters have accessible seating areas for patrons in wheelchairs. See also luxury screens below.


sually in the 2010s, an admission is for one feature film. Sometimes two feature films are sold as one admission (double feature), with a break in between. Separate admission for a short subject is rare; it is either an extra before a feature film or part of a series of short films sold as one admission (this mainly occurs at film festivals). (See also anthology film.) In the early decades of "talkie" films, many movie theaters presented a number of shorter items in addition to the feature film. This might include a newsreel, live-action comedy short films, documentary short films, musical short films, or cartoon shorts (many classic cartoons series such as the Looney Tunes and Mickey Mouse shorts were created for this purpose). Examples of this kind of programming are available on certain DVD releases of two of the most famous films starring Errol Flynn as a special feature arrangement designed to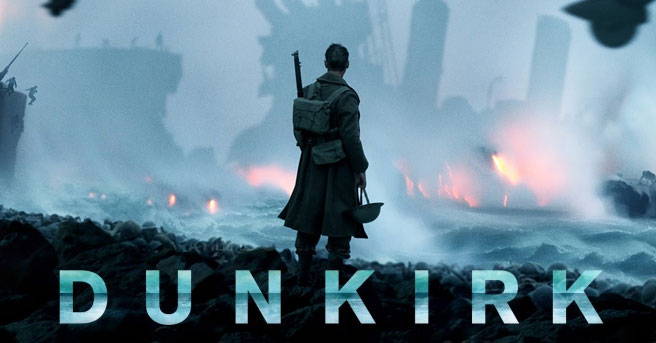 A typical modern theater presents commercial advertising shorts, then movie trailers, and then the feature film. Advertised start times are usually for the entire program or session, not the feature itself; thus people who want to avoid commercials and trailers would opt to enter later. This is easiest and causes the least inconvenience when it is not crowded or one is not very choosy about where one wants to sit. If one has a ticket for a specific seat (see below) one is formally assured of that, but it is still inconvenient and disturbing to find and claim it during the commercials and trailers, unless it is near an aisle. Some movie theaters have some kind of break during the presentation, particularly for very long films. There may also be a break between the introductory material and the feature. Some countries such as .


Thanks!
This field is required
This field is required
This field is required